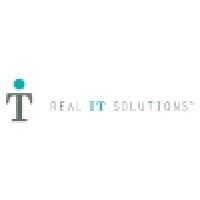 Real IT Solutions
You're not in the business of managing IT infrastructure. You're in the business of making money. Real IT Solutions knows this, which is why they promise their clients ROI, efficiency, and security.
Based in Michigan, Real IT Solutions has been in business for over 15 years. That experience guides the approach they take with their clients, knowing that your bottom line is their bottom line.
Specializing in assisting companies in the Manufacturing industry, they understand industry-specific needs to help get your business running smoothly. With 80% of Real IT Solutions' industry focus on manufacturing, their experience in the field is unmatched.
Real IT Solutions implements vigilant parameters to keep your network free of malware. Their on-demand performance reporting reassures clients active monitoring is ongoing.
They enhance email security by protecting against phishing attacks while adding strict restrictions on file downloads. Browsing controls are put in place to protect employees and companies from suspect websites.
Compliance training gets everyone in the organization on board with the security protocols and regular security awareness assessments give Executives insight into the state of preparedness amongst employees.
All your hardware is scanned and tested to identify any threats, breaches, or compromises that may be affecting your desktops, servers, or mobile devices.
Online reviewers love the integrity the Real IT Solutions team demonstrates. Their availability is noteworthy, as customers praise their near-immediate response time with help desk ticketing.
Their stated deliverable is Money, Efficiency, Security. If you're looking for a partner in Managed It & Security services whose focus is improving your bottom line, then Real IT Solutions may be the service provider for you.
Winner of CIO Review's Most Promising Cybersecurity Service Company 2021, they're an up-and-coming player in the Cybersecurity field.
Company Details
Employees:
Employees 10 - 49
Min. Project Size:
$5,000+
Avg. Hourly Rate:
$150 - $199 / hr
Contact Information
Location
866 3 Mile Rd NW
Walker, Michigan, 49544
United States
QUICK STATS
Industries
Sports
Consumer Products
Education
Automotive
Manufacturing
Services
Managed IT Services
IT Consulting
IT Support
Data Backup Solutions
Virtualization
Co-Managed IT Services
IT Project Management
VoIP Phone Systems
Cloud Computing
Help Desk & Server Support
Network Security
Standout Services